Small update,
Work is going steadily but I've done the basic shape and design of the weapon.
I'm unsure of the bottom parts though, I think they need removing and replacing with something else.
As for the haft of the weapon I thought of making some sort of snake skin/scale covering, I can then add decorations and additional parts of the top.
I'll also add some designs to the weapon blade.
I've also given him a turtle shield arm guard, will work on getting some photos up for that too.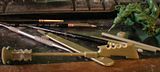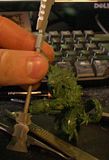 I've also tried to add some feathers to the braclet, I hope it helps.
Let me know what you all think.