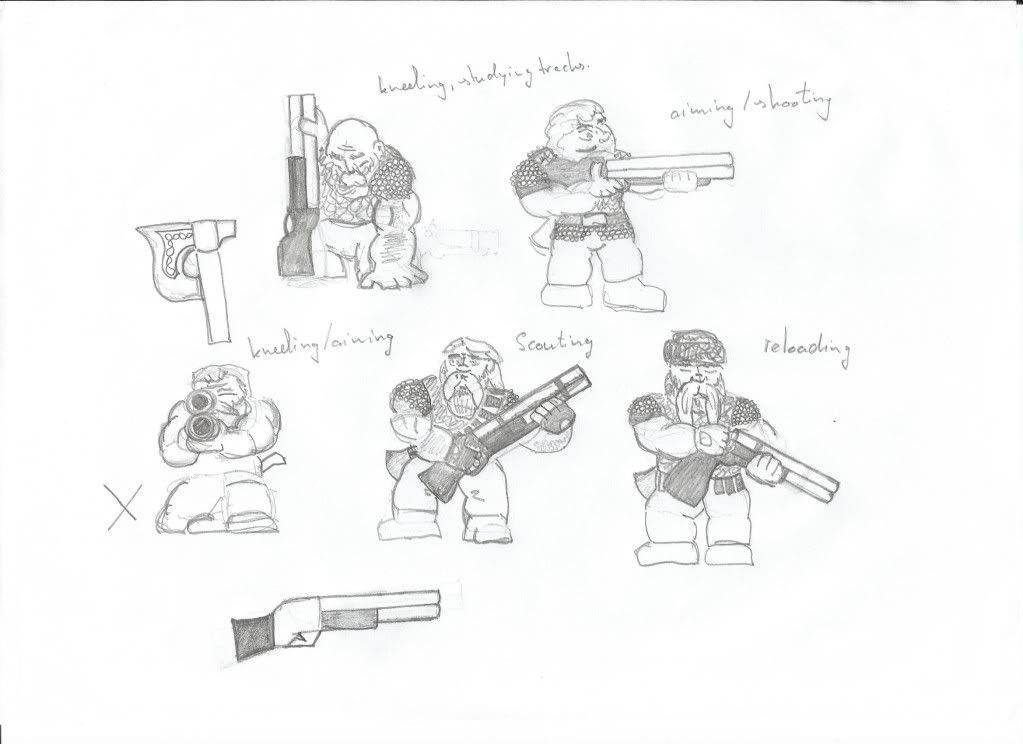 There you go guys. It's not much, but it's a start for me to get ideas to paper. I've drawn them as inspiration for a certain skirmish game you guys might know (something with a comet). I've given up hope in Games Workshop doing awesome Dwarfs, that's why I'm getting around on other forums. I hope you like the idea, if there is ANYTHING you would like to do with any, let me know and I will get more detail on paper.
The idea behind this group is a bunch of Rangers, Scouts and Woodsdwarfs. As such, they will always be wearing armor. Even a vest of chainmail is better than nothing and anything more would probably give them away too much. That's also the reason why you see the chainmail under their fur overcoats (to muffle the sound and any possible glare from the sun). Also, there won't be a single one of them armed with a dagger. Instead, there won't be one Dwarf that will be without his pocketaxe.
I'm somewhat of an outdoor camper myself and recently started using a small axe instead of a knife and it's actually more practical than I had first imagined. (I actually decided to use it based on these drawings and to find out the practicality behind a pocket axe
)
Besides a pocketaxe and the handgun, I imagine at least some of them will be armed with one or more axes. Most will be for throwing but one or two can be melee weapons. (Too many axes will be overkill and basically, lame).
On the subject of the handgun, I love these types of double barreled handguns. You can tell from the reloading dwarf what kind of gun it is a little better. I imagine guns used by dwarfs to be different in some ways than guns used by humans, not only in scale (smaller because they are smaller) but also technically. One example would be the shorter stock. I don't imagine these guns to be overly decorated.
Okay well that's my thoughts on Dwarf Rangers. I hope it's some inspiration for you. Let me know what you think.