I'm surprised no one has started a thread on this one yet. I bought the Arena Deathmatch rulebook about six months ago, and finally got around to reading it last week. As it turns out, I got the first edition book! Whoops! Anyhow, one of my favorite aspects about reading any rulebook is the background information surrounding the game and the setting. It helps to bring the game to life and for some strange reason it even makes the models that much cooler!
(As a sidenote: does anyone know if there's new fluff in the 2nd edition rulebook?)
Although the first edition book has some odd translation errors, Arena Deathmatch has a very strong background. In my opinion, all games should try to emulate the expansive foundation and quality of writing that Arena Deathmatch offers in pages 101-119.
Concerning the style and content… I like that the encyclopedic information is given to readers as if it were being told to us by an age-old scholar. The style of narration really helps to inject some character into the writing, and it prevents the introduction to the World of Saga from feeling like you're reading a dictionary. With the Short Stories I really appreciate the way that ordinary men have been portrayed. Saga is a violent place full of desperate struggle. While humans consider themselves to be relatively advanced as a race, they are still simple, slow, weak, vulnerable, bumbling and insignificant; and what's more, they appear to be aware of themselves as such! The extinction of a barbarian tribe, for example, is a very real possibility: one that is pondered by the members of their own society. By exploring the psychology of these people, we get compelling storytelling that complements the fantastic nature of exciting and explosive combat between gods. Avatars of War provide a good midway point between the two, exhibiting incredible potential of their own, while simultaneously maintaining a subservient relationship to the Gods of War that granted them their power. The fluff for Arena Deathmatch succeeds in doing what many fantasy settings fail to do: offer an explanation that seems viable for why there are epic characters roaming the world who are capable of standing toe to toe with dozens skilled combatants at once.
So there's my two cents. This IP is perfectly capable of standing on its own. I'm eager for the day when more people discuss the background of the world of Saga; rather than simply discussing how to incorporate AoW's miniatures into other gaming universes. I hope that the IP grows to encompass a larger game system to take advantage of Avatars of War's awesome plastic and warcast troop regiments, too.
Here are some things I'm looking forward to learning more about. I tried to list them in order of how much they appeal to me… but they're all pretty close together in terms of interesting content.
1) The Gravelands- What is in there? The libraries in Old Athlean ruins should provide a great wealth of knowledge about the world and perhaps the age of enlightenment; proposing re-discovery of forgotten lore and ancient cultures. Crusades into the kingdom of undeath don't seem out of place.
2) The Abberant- there's enormous potential here for modeling and for storytelling. The Abberant provide a readily accessible adversary for the human race, and I'm curious to get inside their minds a little bit and try to understand what motivates them to crush and destroy.
3) The Netherdome- once again, enormous potential! I find the Netherdome to be an appealing concept because, unlike other depictions of Daemon infested places, this one has allure and beauty! It is like the garden of Eden in a poetic way; with a lurking evil amidst beautiful natural water formations. The suggestion that old Athleans didn't know about the Netherdome is also unusual and makes the place interesting for that reason. I really hope the Netherdome is explored. (It also reminds me a little of the genesis cave in Star Trek for some reason.
See below.
Which is good, I think.
)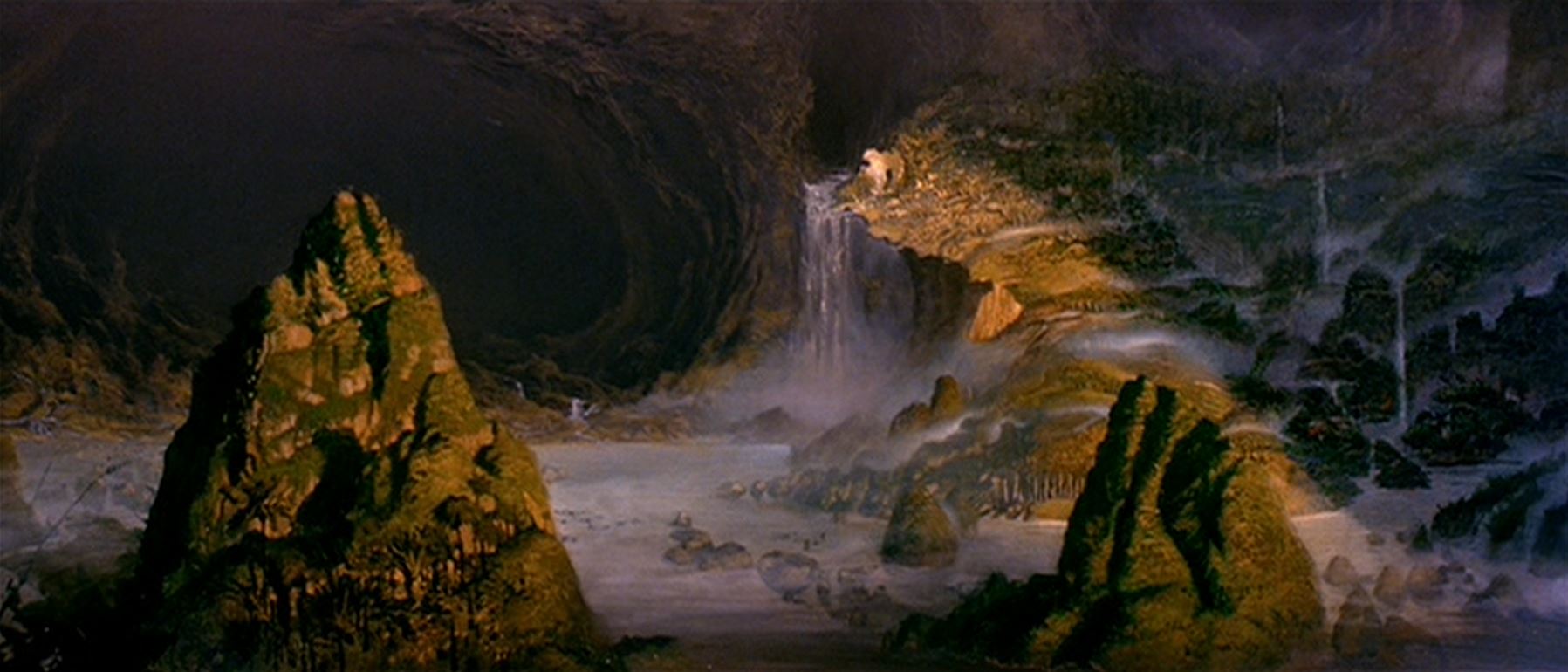 4) The Frostlands of Krond- I want to know more about daily life and hardship here. It seems that the Frostlands play an important role in Cael's rise to power, as well.
5) What exactly is the Ward protecting? What's in the Cirlean Empire? Interestingly, the Ward, which was founded to protect the Cirlean Empire, is much more well developed that the Empire itself! If the Ward is full of Citadels, fortresses, forests, perpetual mists, natural swamp-mazes, cities built upon great bridges of stone, hulking towers of Iron, the meadows of Belenor and the Crystal Mountains… then what about the Empire? What is there?